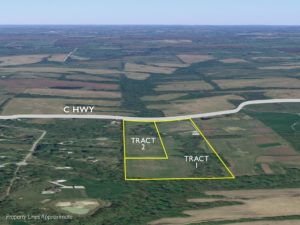 As seen in the Kansas City Star
Looking back over the past 73 years of his company's history, Jeff Cates notes that homes on acreage are consistently among the most popular real estate auctions. "From the very early days when my grandfather founded the company, farm auctions and homes on acreages have been a steady part of the business," he notes.
A look at Cates Auction & Realty Company's spring and early summer calendar proves it true with several options for buyers who prefer to live on a bit of land rather than a traditional subdivision lot. "These types of auctions are great for bidders and for sellers because each property is unique," says Cates. He adds, "You can't just look at a recent sale of a matching property to determine value like you can in a traditional subdivision. It's based entirely on what buyers decide it's worth."
On May 15th, Cates will be selling a home on approximately 43 acres between Kearney and Smithville, Missouri. In this sale the acreage is divided into two tracts allowing buyers to bid on either one or both in combination. Tract 1 consists of 28 acres with a custom-built true ranch home and a 40×84 outbuilding with concrete floor, electricity and heat. Built in 2003, the 2,000 square foot home has three bedrooms, four baths and a walk-out basement. The sellers are moving, so Cates says they chose auction to expedite the process. There is no minimum or reserve on this auction so the home and land will be sold to the highest bidder(s).
For those wanting a little less acreage, on May 29th, Cates will be selling a three bedroom home on 3.3 rolling acres just northeast of Liberty, Missouri.  The true ranch home has a large sun/breakfast room addition, an updated kitchen, and three-car garage. The partially-timbered land also has a metal outbuilding. Cates says this is a great way to live close to town but with a peaceful country setting. The real estate, along with the personal property is all being sold at absolute, no reserve auction as an efficient method for settling an estate.
On June 5th, bidders will have the opportunity to compete for a 38-acre country estate complete with wildlife, a 3.5 acre lake, scattered timber, a barn, and a four-bedroom home. (28 of the acres are tillable.)  The property even has an 18-hole disc golf course! For those who prefer their golf with clubs and balls, Cates notes that the location is just east of the Tiffany Greens Golf Course which also makes it convenient to shopping, dining and entertainment options. As these sellers are downsizing and selling their lifelong collection of antiques and other personal property as well, they chose auction to simplify the entire process.
Information on all three properties, including photo galleries and open house dates, can be found at CatesAuction.com. The site also provides a complete auction calendar of residential, land, commercial, and personal property auctions taking place in the next 45 days. Owners curious about selling at auction can contact the company at Sold[@]CatesAuction.com or by calling 816-781-1134.
More from Cates at Cates Auction Real Estate Company
Cates says additional acreage auctions will be announced throughout the summer and fall. While such auctions are certainly part of the legacy of this successful third generation business, when he reflects on similar home and land auctions conducted over the years, Cates is amazed by how much has changed. "My father and grandfather would be thrilled to see the caliber of our professional staff and the leading edge technology we utilize to market properties and extend bidding accessibility. They would certainly be proud of our status as a recognized leader in our industry."