The idea of selling a luxury property can initially feel overwhelming, but it doesn't have to be — especially if you consider putting it up for auction.
But how do you know if auctioning your property is the best way to sell? How can you market your home and set the right price? How long will it take to sell?
We hear these questions all the time, and we have the answers for you. We've compiled a complete guide for everything you need to know about selling your luxury property, including tips for selling, marketing, pricing, timing, and determining the best route for selling your property.
Tips for Selling Your Luxury Home
The market for luxury homes can be quite exclusive, especially the pricier your property is. Only a specific subset of buyers will be financially capable of purchasing your property, and they'll likely have several expectations for the property if they are going to pay a high sum for it. This can make sellers wary of entering the luxury real estate market, especially first-time sellers. Fortunately, sales of luxury homes have increased in the U.S., so if you're looking to sell your expensive property, now may be precisely the time to do so.
Still, you may not necessarily want to rely on market trends as an indicator of how quickly and profitably you manage to sell your luxury property. If you're going to take charge of the sale of your property, you'll want to take an active role in putting your property in front of the right prospective buyers. To help you sell your luxury property, we recommend following these eight tips.
1. Effectively Market Your Luxury House
The goal of marketing your luxury home is to reach qualified buyers, so putting up a For Sale sign in the yard and sharing your listing on Facebook probably won't be effective. Buyers of luxury homes don't look for properties in the usual places, so your marketing efforts will be wasted there.
You'll want to target potential buyers who can afford your home and will be interested in purchasing a luxury property. Then you'll want to focus on the aspects of your home that will make the property attractive to your targeted demographic. Putting money toward high-quality marketing tools like photography and professional staging can help you reach your prospective buyers.
2. Work With a Real Estate Auction Company That's Experienced in the Luxury Market
When you work with a real estate auction company with experience in the luxury market, your home reaches the right buyers — which means you're likely to sell your property quickly and for a better price than you might have anticipated. If your luxury property has been on the market for months or years, it may be time to consider an auction.
Additionally, especially if you're a first-time seller of a luxury home, putting your property's future in the hands of professionals who have sold numerous luxury homes can drastically increase your odds of making a successful sale. An experienced real estate auction service like Cates Auction & Realty Company knows how to market and price luxury homes and can draw in multiple prospective buyers.
3. Turn Your Luxury Property Into a Brand
Branding your property means giving your home a unique identity that stands out among the competition. You should focus your brand so that you'll have direction when you're creating your marketing materials. Maybe you'll want to come up with a slogan or logo you can place on your marketing materials and other relevant content. Your brand doesn't need to be glaring, since you may risk turning off prospective buyers for being too overt, but your brand should be consistent and subtle throughout your marketing materials.
4. Set Your Price

Sometimes luxury properties can be difficult to appraise when there aren't any comparable sales or if the property is particularly unique. This lack of a solid appraisal can leave sellers unsure of what an appropriate price for the home might be and how much they'll make off of their home sale.
If you price the home too high, then you risk the home sitting on the market for months or years. If you price the home too low, you may risk selling the property at a lower price than it's worth. Finding the middle ground will allow you to be competitive in the market and get as much for the property as possible. Alone, this can be a tough balance to strike.
An auction for a luxury property can be the best solution to this problem. Buyers determine a property's value based on the value that other buyers give it during a transparent bidding process. When buyers are competing for ownership of a luxury property, this competitive environment often drives the value of a property up and results in lucrative sale prices.
5. Hire a Professional Stager
Staging a property can help buyers envision themselves living in a home. In the luxury housing market, homes tend to be customized to an individual's tastes. While you don't necessarily need to strip your luxury property to the bare bones, you'll want it to be staged in a way that shows prospective buyers its potential and doesn't overwhelm them with your personal style.
The process of staging can be challenging and a huge undertaking. Hiring a professional, especially someone with experience in staging luxury homes, can help you ensure you optimize the selling potential. A stager may also be able to help you find ways to showcase your luxury property's most exclusive and unique features to increase prospective buyers' interest.
6. Take Quality Photos and Videos of Your Luxury Home
To showcase your luxury property, you'll want to invest in a large number of high-quality photos. If you don't trust your photography abilities, you can find a photographer who can do the job well. Including a virtual tour, drone shots, and other videos will give your property an added boost to appeal to prospective buyers. This can be particularly effective if your property is positioned on a lot of land.
A comprehensive album of imagery is also helpful for buyers who may not be able to travel to see a property in person before purchasing.
7. Focus on What Sets Your Home Apart
To sell your home, you'll want to ensure it stands out amongst comparable homes in the same price range. Avoid placing the focus on furniture and similarities that can be found in other homes within the same price range. Instead, you'll want to emphasize anything that makes your home special. These features should be prominently displayed in your videos and photographs. They should also be mentioned in your written materials for marketing.
Be sure not to assume that prospective buyers will notice the home's best features on their own. Highlight those features in your marketing materials, so you can be sure buyers are aware of the unique aspects of your property.
8. Offer Perks
The more you can offer to potential buyers, the more likely you are to garner interest and stand out among other luxury homes that might include features that are similar to yours. This could also be an opportunity for you to offload items you no longer want to keep, such as a furniture set. If you're trying to sell in a saturated market, including exclusive bonuses, as it can give you an edge over your competition.
Sometimes it takes a bit of luck to sell your luxury property fast, but your odds of selling are higher if you utilize an effective strategy. Following these tips can help you sell your luxury home quickly and profitably.
Should You Host an Open House?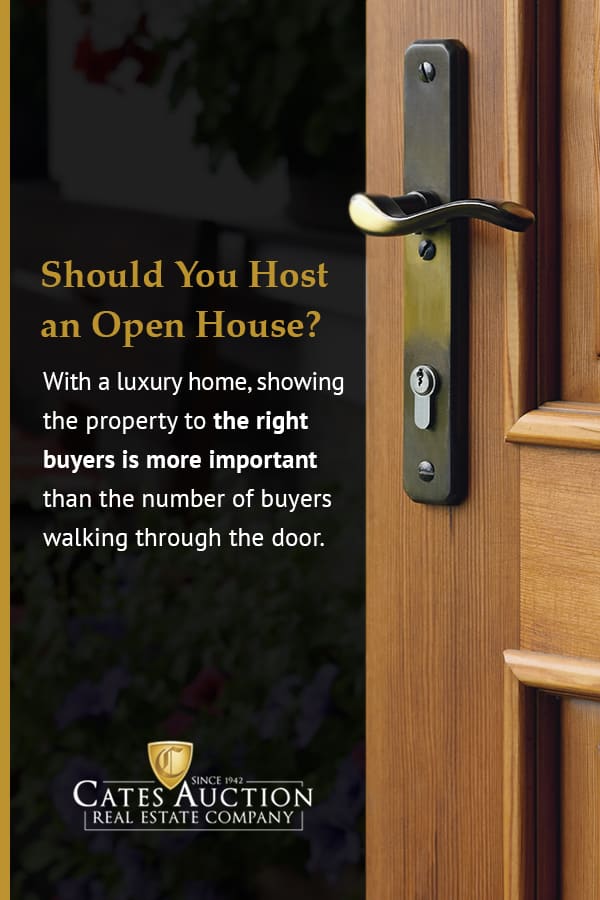 If you want to sell your luxury property at a price that meets true market value, then you might want to skip hosting an open house for the public. Selling a luxury property tends to require a feeling of exclusivity for prospective buyers. Rather than schedule a public open house, opt for viewings made by appointment only. Buyers will then find viewing this property to be a privilege, and you won't waste your time showing your home to people who are merely curious and have no intent to buy.
Limited viewings will likely result in few prospective buyers, but this isn't necessarily a bad thing. With a luxury home, showing the property to the right buyers is more important than the number of buyers walking through the door. Because the right buyers for luxury homes value exclusivity, they won't be attending a public open house.
To show the property to more than one of these ideal prospective buyers at the same time, you may be able to host a showing that is invite-only.
How Long Will It Take to Sell Your Luxury Property?
The amount of time it will take to sell your luxury home depends on the length of the marketing campaign and the number of days until closing following an auction. For example, the preauction marketing campaign for your property may last 45 days, and closing may not occur until 45 days after the auction. With Cates Auction & Realty Company, the preauction process typically takes 30 to 45 days, though it can often take less than 30 days. Sales are also typically made in 30 days or less.
Regardless of the exact amount of time it takes to sell your property, try to exercise patience. Remind yourself that your luxury property has plenty of value, and you will find the right buyer.
Who Is Your Audience?
Who exactly is the audience for your luxury home's marketing strategy? You're trying to appeal to a very specific group of people, so your marketing strategy isn't about reaching the largest number of buyers. Instead, it's about reaching and enticing the buyers who can comfortably afford your property and who are looking to purchase a home. You want to avoid targeting the wrong group of buyers or non-buyers, as it will be a waste of your time and resources.
Highlight the specific aspects of your home as well as the location of the property. Is the property located in a great school district? Does the neighborhood boast excellent restaurants or nightlife? Is the home close to an exciting city? Utilize all of the selling points at your disposal.
If you're still unsure, consider what you would look for in a luxury home if you were a buyer. Ask friends, family, and other luxury homeowners what they admire most about your property. Use that information to strategize your marketing plan.
Why Is an Online Auction the Best Route for Selling a Luxury Property?
Both sellers and buyers benefit from auctions for luxury properties. For sellers, auctioning allows them to actively market their property during a brief period and gives them the ability to set a sale date. This means sellers won't have to deal with scheduling multiple showings for their property. Auctioning also helps sellers attract more qualified buyers and gain more interest than can typically be found with traditional methods in real estate. Additionally, since bidders must compete against each other, sellers can also receive the true market value for their property. This is especially beneficial as luxury homes can be difficult to accurately appraise.
Potential buyers will get all of the necessary information about the property before the sale, and they can see what other interested buyers are willing to pay for the property. The luxury property will then be sold to the highest bidder. This is great for both sellers and buyers, as sellers will sell their properties for the best prices, and buyers can purchase a property at a price they've essentially chosen.
Auction Your Luxury Home With Cates Auction
If you're looking to sell your luxury home at auction, you want a real estate auction company you can trust, and that has experience in the luxury market.
At Cates Auction, we have more than 75 years of experience selling a wide variety of property types, including luxury homes, throughout the Midwest. When you work with us, you'll ensure your gorgeous luxury property gets the attention it deserves and stands out to potential buyers. Call us at 816-781-1134 or contact our team to get started on the selling process today.