FOR IMMEDIATE RELEASE:
ONE-OF-A-KIND LUXURY ESTATE UP FOR AUCTION
Family of Iconic Kansas City Entrepreneur Chooses Auction for Simplified Sale of Spectacular 4-Acre Luxury Lakefront Property with 13,000 sq. ft. Residence
DATELINE: KANSAS CITY, MO. March, 2019. Faced with the daunting task of selling one of Kansas City's finest luxury estate homes, the family of a late entrepreneur and iconic businessman turned to auction. The magnificent 13,000 square foot residence presides over a gated 4-acre lakefront setting replete with private swimming and wading pools, tennis court, English gardens, woods, and even artwork.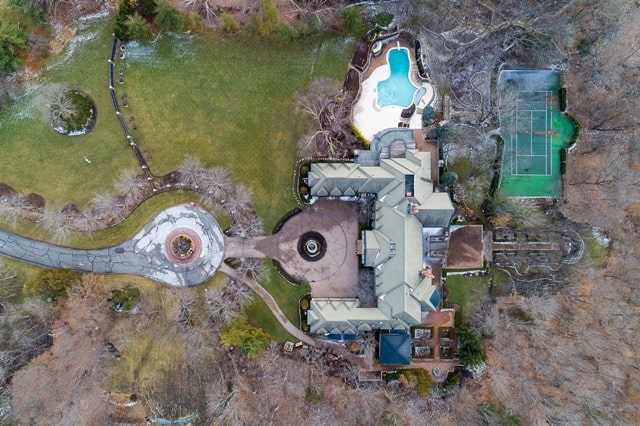 Designed by Wolfgang Trost Architects, the home blends Neo-Classical and Early Classical Revival styles. It is clad in distinctive Coffeeville Paver brick with cut stone trim, quoins, banding, and lintels. The concrete tile roof is embellished with copper guttering and ornate chimneys with terra cotta tops and cut stone coursing.
Just inside the front doors, an elegant 2-story entry with dual grand staircases centers on a striking leaded glass ceiling anchoring a 10-foot chandelier imported from France. A magnificent barrel-vaulted great room, a stately dining room, and a richly paneled library are just the beginning of a tour that reveals the height of luxury and design at each turn.
The family chose North Kansas City-based Cates Auction & Realty Co., Inc. to handle the auction marketing and sale. President, Jeff Cates, says the auction strategy is perfectly suited to this situation. "It's a world-class property with a very small pool of legitimate buyers. While the family is not in a hurry, they want to simplify and shorten what would otherwise likely be a long and complicated process. Our firm is producing a top-notch campaign that will reach the right buyers and ask them to compete to own this outstanding property."
Cates Auction listing agent, Ray Bucklew, is representing the property and already working with prospective buyers and agents. "Not surprisingly," he says, "Some buyers are attracted to the private setting and amenities while others want to own a one-of-a-kind house." He adds, "Who wouldn't enjoy a round lakeside master suite with a custom Italian bed that rotates to take advantage of the views?"
Also available in the auction is a .68 lot adjacent to the main property. According to Cates, it is a prime individual building lot or an excellent extension of the larger estate. The properties are in the upscale gated community of Loch Lloyd which is known for its Tom Watson Signature golf course.
Qualified buyers and agents may request private tours of the property by calling Cates Auction or completing an online request form. To bid on the property, prospective buyers must register online and submit proof of funds to Cates Auction for approval. Photo galleries, terms, forms, and details can all be found at CatesAuction.com/DundeeCircle.
Founded in 1942, Cates Auction & Realty Co., Inc. specializes in the auction marketing and sale of quality homes, land, and commercial properties in Missouri and Kansas.
For press information, contact Cates Auction at 816-781-1134 or Sold[at]CatesAuction.com.