How do you successfully downsize your Kansas City home before moving? It's a big project without a one-size-fits-all solution. Fortunately, we've compiled a list of tips that offer Kansas City downsizing help for seniors to help you shed possessions and transition seamlessly into your new home.
Where to Begin
A big move can seem daunting, and the actual work of downsizing in Kansas City can be overwhelming to take on from start to finish on your own. Start by seeking help from friends and loved ones. If you know of someone who has gone through this process already, invite them over for coffee to discuss how their downsizing went and learn from their experience.
You might even want to meet with someone from your new community to discuss your needs in your new home. For example, if the seller or agent mentions kitchen and bathroom storage is limited, you could focus on downsizing your kitchen and bathroom to fit the needs of your new space restrictions.
Hiring a Move Manager Partner
In addition to meeting with a Kansas City seller or agent from your new community, you should also consider hiring a move manager. These individuals are trained to help you downsize and move. You might think you can handle downsizing yourself, but selling items through classifieds can be a hassle and increases the risk that a stranger will try to take advantage of you.
Hiring a Kansas City downsizing move manager means working with one person you can trust for various tasks rather than coordinating many different services yourself. A move manager plans the downsizing process from day one according to your unique needs and timeline. They can help you manage your assets and assist you while you decide which items to keep, sell or donate as you're downsizing. Look for a move manager in Kansas City who can also help settle probates, appraise property and handle cleaning and property maintenance.
The move manager you pick should be National Association of Senior Move Managers (NASSM) certified. These credentials let you know that your downsizing move manager has the appropriate credentials to assist you with your move. They also have the experience needed to help your move run as smoothly as possible.
Besides being NASSM-certified, your move manager should also be the right fit for you. You should trust them wholly to handle your move and help you downsize. Ask plenty of questions about how they plan to coordinate your downsize and how much time they have available. You should have complete control. Take all the time you need to ensure you find a move manager in Kansas City who is the right fit for you and can provide what you need during your downsizing process.
An effective downsizing strategy is essential, but your move manager or company should also know your assets. They can help you appraise and liquidate your assets while also helping you pack, clean and sell your Kansas City home. They'll also help you sell or donate any items you don't need as you downsize.
Upsides of Downsizing
You're moving into the next stage of life and looking forward to retirement. Downsizing is an excellent way to get the most out of this period in your life. When you downsize in Kansas City, you can:
Save money: One of the main reasons people choose to downsize is to save more money to allocate to other things in life, such as hobbies or trips. Living in a smaller home or community in Kansas City reduces the cost of utilities, maintenance and insurance, putting more money in your pocket.
Reduce housework: A smaller home means less to clean. When there is less to take care of, you reduce any strain the work could have on your body. If you have a medical condition or concerns about your physical health, downsizing can be one way to reduce the risk of harm. You'll also find that you have more time in your day to do things that you enjoy.
Benefit the community: When you downsize, you will have items that you need to sell or donate. If you have something that you can't sell, choose to donate your items rather than throw them away. Considering how your items can help those in need in Kansas City can be a great comfort when downsizing. Additionally, donating items is a more environmentally-friendly option than discarding your items in the landfill.
Choose where to live: Downsizing allows you to pick where you live next. Consider your needs and wants to find a place that supports your lifestyle. There are communities in Kansas City for all ages and interests. If you've always wanted to live closer to your family, you now have the option to do so. If you have health concerns, you can choose a community that offers additional support to help you manage your condition. Some Kansas City communities offer comforting assistance to those both living with others and those that live alone.
There are many great benefits to Kansas City downsizing for seniors that can help you live an easy and relaxing life in retirement. Once you've chosen your new home or community and have a set move-in date, it's important to start the process of downsizing right away. It can be physically demanding, and if you have to complete the process in a short amount of time, it can become painful.
Talk with your move manager and the other people helping you downsize to set a timeline to complete all of the steps. This will help you stay on track and promptly complete all the necessary tasks for downsizing.
Establish a Downsizing Plan
When you work with a Kansas City move manager, they'll take care of most of the planning. However, it's helpful to have a foundation established so your move manager has something to work with and can ensure critical tasks are handled during the downsizing process. This is a good place to start focusing your efforts as you downsize:
Have a plan for your family's stuff: Your house might also store your kids' belongings. Old high school yearbooks, college sports memorabilia and other items from their youth are great for trips down memory lane, but it can't all go with you to the new space. Schedule a day or weekend where they can come over to decide what to do with their old belongings. If you have grandchildren, they probably also have things in your home. Inviting them over to go through old toys and clothes can help you prepare for downsizing — and ensure you only have to worry about your own things when you move.
Save important documents: Gather important files and documents before any downsizing begins and place them somewhere safe. Creating digital copies of your files is also a good idea that can help you downsize even more. You'll want to keep these secure so they don't get mixed up in other things and accidentally thrown away or lost.
Set aside heirlooms and antiques: Gather and set aside all sentimental or valuable items you want to keep — whether in storage or your new home — like family heirlooms, antiques or sentimental belongings. This could be anything from hand-carved furniture to your favorite childhood toy or book.
Consider storage options: Consider local Kansas City downsizing storage options, like a loved one's house or a rental unit, if you suspect downsizing could still leave you with too many items to take to your new home.
9 Tips for Downsizing
Even if you're working with a professional and highly trained move manager, there are still some useful tips you can follow to streamline the process. Follow these nine seller downsizing tips and tricks to make the transition to a new property in Kansas City easier for you and your family.
1. Prepare Your Home Early
Starting early is one of the best tips for seniors downsizing and selling their homes. The process of downsizing often takes more time than you anticipate, so beginning as early as possible is essential. Many people think they need to know where they're moving before they can start downsizing, but you can begin anywhere from a year to even five years in advance if you know you'll eventually need to move. Downsizing is also a great way to declutter and make space for home renovations in the meantime. To begin your Kansas City downsizing journey, reach out to the experts at Cates Auction to ensure you are supported every step of the way.
2. Start Small
Places like kitchens, garages and bedrooms are often huge projects. Starting in rooms with less stuff — like utility rooms and linen closets — can make the process less daunting. Even if there are bigger things to tackle, finishing small projects helps you feel more accomplished and motivates you to take on the rest of your downsizing tasks. You'll also develop your own organizational methods along the way that will prove useful in larger rooms.
3. Consider Your New Space
When thinking about downsizing, consider the parameters of your new space. Even if you don't have anything signed and sealed, knowing if you're moving into a small apartment in Kansas City, mid-size condo in the suburbs or smaller house in the country influences how you downsize. Moving from a house to an apartment in the city will be a larger transition, so preparing for that as early as possible is a great idea.

If you're not sure what kind of space you'll be working with, always assume smaller than you currently live in to be safe.
4. Organize Backwards
While most conventional advice would say to pick out what you don't want to take first, the "organize backward" method flips the script. With this method, you first pack the things you'd like to keep, leaving the rest for careful consideration. Most likely, what doesn't make the first cut isn't essential or sentimental and could be sold, tossed or donated.
5. Eliminate Duplicates
One of the best things you can do to start the process is to eliminate duplicates, which could take up valuable space in your new home. For example, if you have three spatulas, downsize to one. If your current sitting room fits two sofas and a recliner, downsize to a single sofa or loveseat.
6. Follow the One-Year Rule
The one-year rule is simple — if you haven't used an item in a year, get rid of it. This goes for everything from kitchen appliances to clothes and shoes you haven't worn in a few seasons. Throw away anything broken beyond repair and consider donating clothes in gently-used condition to Kansas City charities.
7. Prioritize Sentimental Value
While downsizing nonessentials is important, that doesn't mean you can't keep items with sentimental value. Even though something might not have much monetary value, keep it if you have strong feelings about it. You are more likely to miss sentimental items than the more expensive items with less meaning to you.
8. Establish a System
Establishing a system is another crucial factor in how to downsize your Kansas City home. Decide what rooms will go first and then use a coding system to label items. This way, you'll know where everything goes before you start boxing. Sort all items into different piles for "sell," "donate," "toss," "pass down" and other categories that fit your needs.
9. Get Help
Don't try to take on the project on your own. Ask family, friends or neighbors to help move the downsizing process along. Their assistance can take a significant burden off your shoulders and may offer a great opportunity to reminisce together.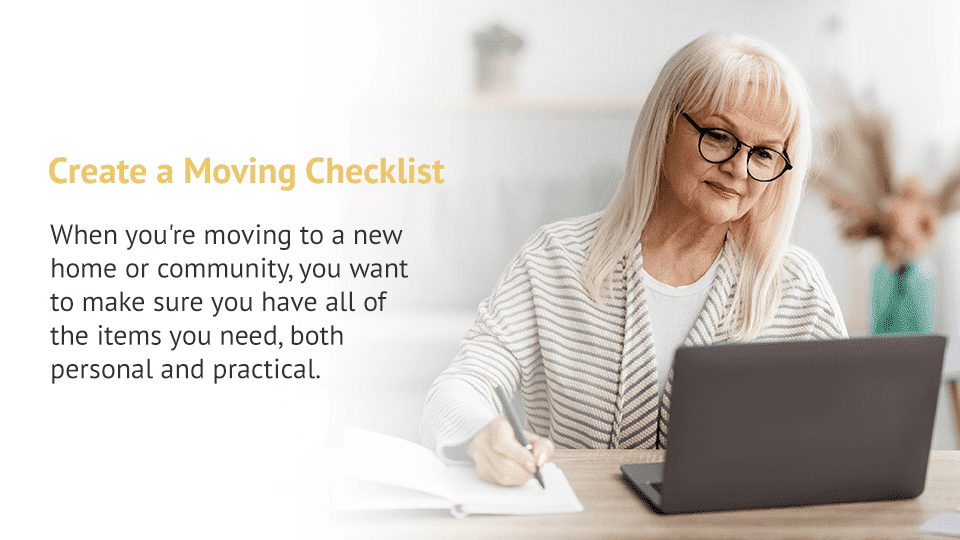 Create a Moving Checklist
When you're moving to a new home or community, you want to make sure you have all of the items you need, both personal and practical. Keep this downsizing checklist saved so you can reference it during the downsizing process before you leave your old home and move into your new community. It is also recommended to categorize and measure larger items to see if their dimensions will fit in the new space.
Start with the essentials:
Clothing
Toiletries
Medications
Personal items
Important documents
Next, create a list of your furniture and decor you plan on taking to the next place. This can include:
Mattress, box springs and bed frame
Pillows, sheets and towels
Kitchen utensils
Desk and desk chair
Living room couches or chairs
Bookshelf and books
Wall art and photographs
Holiday decorations
Technology and electronics have become a staple in our society, so you'll likely have some of these items. Choose which electronic items you'd like to keep and create a list. Here are a few ideas:
Appliances, such as a microwave, toaster or coffee maker
Computer and modem
Television and DVD player
Gaming consoles
Cleaning materials will help you through some of the messes that naturally occur as you move in and out of a home. Some cleaning supplies that would be good to have on hand include:
Laundry detergent
Broom and dustpan
Hand and dish soap
Selection of towels
Bleach and wet wipes
You can also bring specific food or drink items if you decide to. Some people have aged bottles of liquor or wine that they've kept over the years to use on special occasions. Food and drink items like these hold a personal meaning to certain people, so make sure to include these on your downsizing checklist. Just keep perishables off the list since these can be replaced and likely won't survive the trip.
Where Cates Auction Comes In
These tips for older adults downsizing and selling their homes can help you prepare for the transition. If you're looking for options for selling your property, an auction might be the perfect fit. In addition to selling your house on the market, you might find an auction provides a simple solution to downsizing your home, possibly with a better return on investment or in less time than it would have otherwise sold. Auctions can simplify selling your home by removing most of the negotiation process. You set the date on the sale of your property to make it easier. Cates Auction provides a free analysis of your property in Kansas City and creates a custom marketing strategy to help you rest easier knowing your home is in good hands. Working with Cates and selling your Kansas City home at an auction boasts various benefits, such as having more control over your selling timeline. In addition, our team's custom planning and support for each seller lends itself to a higher return that will leave you satisfied.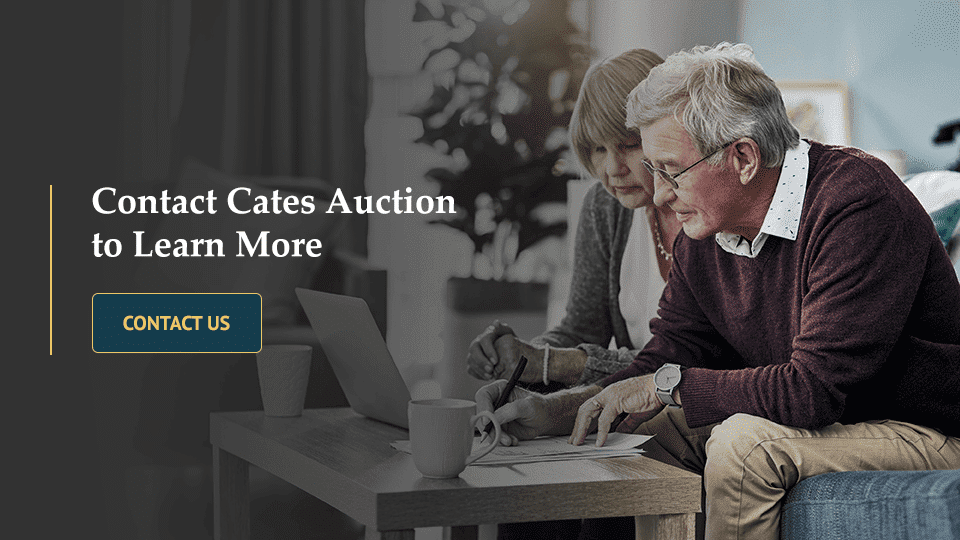 Contact Cates Auction to Learn More
If you're looking for senior downsizing services near the greater Kansas City area, consider Cates Auction and Realty Company. If the market is slow and losing value each month, then selling quickly makes it more likely that your property's value will remain intact rather than dropping with the market. Cates Auction offers a transparent sales process from qualifying buyers to selling the property contingency-free. Even if the market is doing fine, the reality is that people are often willing to spend more on a home when they're bidding on an auction than they would in a negotiated sale.
With a better average closing rate than traditional home sales, Cates Auction is here to help you sell your Kansas City property on your terms. You choose the auction terms and date, and we'll help you find the perfect buyer for your property, contingency-free. Cates Auction is a simple, hassle-free way to downsize and sell your home — contact us today to learn if the auction process is right for you as you transition into your new home and living arrangements.